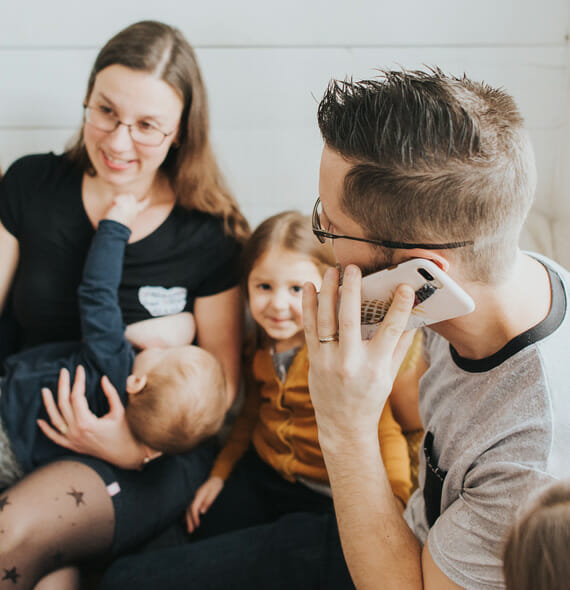 Before or after childbirth, to request a match with a breastfeeding coach to access telephone support, information and technical advice about breastfeeding.
While always respecting the breastfeeding mother's values and pace, to provide continuing support until weaning.
It is now possible for the other parent to get telephone support, whether it is during your partner's pregnancy, while breastfeeding or during weaning.
Do you have a question, a doubt or need to talk to a father who has also experienced breastfeeding?
Do you simply need encouragements, listening and support?
We have fathers-volunteers who are here to listen to you.
DROP-IN BREASTFEEDING CENTER
Every first and third Tuesday of the month from 9:30 am to 11:00 am by videoconference.
At a place where breastfeeding mothers can meet, these periods of conversation allow questions to be asked, discussions with other parents, and the possibility of learning about a variety of subjects regarding the perinatal period with the breastfeeding coaches. Discussions are led by the training members on a specific theme. Consult our Facebook page to know the subjects.
Every second Saturday of the month via videoconference, co-hosted by a lactation consultant, IBCLC and breastfeeding coaches.
The prenatal breastfeeding workshop is for the mother who wants to breastfeed, but also for the mother who still has many questions about breastfeeding. We talk about childbirth, skin to skin contact, proximity to the baby, breast care, breastfeeding on demand, what to avoid and the latching on the breast.
In order to help you prepare and identify how you want to experience your breastfeeding, Nourri-Source Laurentides has developed a Reflection about breastfeeding. It is possible to request it online. Your breastfeeding coach will be able to support you in your reflection and answer to your questions.
To support you in your breastfeeding, the prenatal breastfeeding guide, produced in collaboration with Nourri-Source Montreal, Nourri-Source Montérégie and Nourri-Source Laval is available here.
According to the schedule, at NSL office from 9:30 am, with a lactation consultant, IBCLC.
The community clinic meets a specific need for mothers with particular breastfeeding difficulties who cannot travel. The purpose of the consultation is to answer the mother's questions, check the latching on the breast and direct her, if necessary, to appropriate services.
To request a consultation, it is mandatory to have a breastfeeding coach.